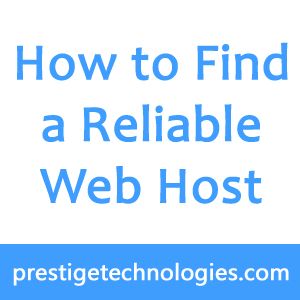 If you are about to start a website, finding a reliable web host is of utmost importance regardless of whether you're going to use it for a business or a personal website. The problem is that many users tend to go for the cheapest one available, only to regret their decision later on as they are saddled with poor uptime, slow loading speeds, draconian TOS, and even poor security. In order to avoid this sad scenario, you need to know how to look for a reliable website through the following techniques:
Look for User Reviews on Third Party Websites
It's understandable if you're skeptical of feedback and user reviews on a web host's own website. After all, they have everything to gain by controlling the tone of feedback (and in worst case scenarios, completely fabricating them.) So if you want to know about a web host, what you want to look for is feedback and reviews on sites that are not affiliated with them – whether it's blogs, or review sites or IT news pages – all you need is a search engine and a little bit of time wading through user reviews.
Click here and try out our service for six months for FREE. No credit card required.
Check If Their Promises Are Reasonable
Sometimes it's easy to spot the kind of web hosts that you need to avoid – all you need to do is look at their claims and see if it's within the realm of possibility. If you see a web host offering no downtimes or 100% uptime, then you've found yourself a company that is offering promises that they can't keep. Servers need to come down from time to time because of maintenance, patching, and yes – even the occasional hitches and hardware failure. It's simply not within the realm of possibility to provide 100% uptime. What you need to look for are those that provide the least amount of downtime.
Look for Customizable Packages
A reliable web host should be able to offer its users customizable packages instead of locking them in plans that might not be enough for their needs or might be too much for their needs and budget. You might want to dig deeper and actually contact their support, because some web hosts might not offer customized packages but are willing to provide one to users when asked. Definitely a plus in this case as it shows that the company prioritizes users over company protocol.
24/7 Customer Support
This should be a given. It doesn't matter how reliable their servers are or how robust their infrastructure is. Part of overall reliability is knowing that you have someone to contact if you ever need help with their services, and that there's no time in the day where you're going to be left on your own (because problems don't occur exclusively during office hours.)
Find a Host That Will Accommodate Your Future Needs
This is something that is frequently missed by many webmasters. They're so fixiated on finding the best deals in web hosting packages that they fail to consider the fact that their needs are going to change in the future. Most likely scenario is that their storage and bandwidth needs will increase, only to realize that their web host only has a cheap starter package, with the next plans being way too expensive as an upgrade. So before you sign up with a host, make sure you check if you can scale your plan up without incurring unnecessary expenses.