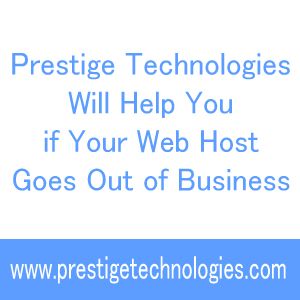 It's very rare that it happens to big businesses that tend to go for premium hosting, but there are small businesses and individuals who chose to go the cheap route when getting hosting, and eventually had to pay the price: a web host that goes out of business.
The reason for why most cheap web hosts tend to go out of business is subject for another post. This time around, we here at Prestige Technologies are more interested in helping people bounce back when their old web host goes out of business. Besides moving to Prestige, here are some things you need to keep in mind:
Don't Close Your Account With the Existing Web Host
It doesn't matter how good the new web hosting company is, moving sites is always a slow process. Not by default, mind you – you can always choose to cancel the account with the web host and upload an existing backup of your site to the new one, but choosing to go this route will result in your website being inaccessible to users while the migration is being done. You don't want all that lost traffic (some of them might not come back if they mistake the downtime for a permanent one).
It is best to keep the existing site on the old account open and the site functioning while you smooth out the kinks at the new web host. Since companies are likely to announce that they are closing up shop in advance before taking things down, you should have ample time to migrate things before the old host goes dark.
Click here and test the efficiency of Prestige Technologies with 6 months free hosting. No Credit Card required.

Make Sure Your New Provider Is Up to Snuff
You don't want changing to a new web host to feel like a downgrade, don't you? So make sure that all the things you liked in your old web host (besides the going out of business part, definitely go for a webhost that is financially sound and will be around longer than you need them to be, like Prestige Technologies) are still available in the new one, and that bandwidth and storage allotment are the same or maybe even better.
Additionally, you might want to check out if the CMS and admin control panel that you were previously using are available, or that the new host's replacement is something that you can learn to use.
Moving Domain Names
This can be the more complicated part. Technically, you should have purchased domain name separate from the hosting, so that one going down wouldn't affect the other. If you got the domain name from your web host, you need to contact their support and get the specifics as to how you can push the domain name to a new registrar. Domain name providers have this function, and as mentioned above – service providers usually announce their closing well in advance, so the support staff should still be available to help you.
Finally, Cancel the Account
If the old web host is going out of business, this serves nothing more than a little bit of formality. However, it doesn't hurt to be extra careful. You don't want to receive billing statement for the account in the future in case the old web host went out of business but was bought and restarted by another company looking to take advantage of their existing userbase. Cancel your account if the option is still available, and rest content that there are no loose ends anywhere.